Yes! I would like to support the Tinicum Civic Association in helping those in the community!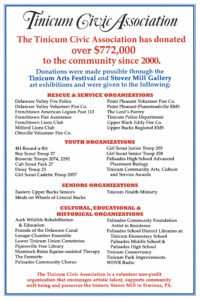 To make an online donation to the Tinicum Civic Association click on one of the "Donate" buttons below. You will be transferred to a secure PayPal website to complete your donation. You may use your own PayPal account or pay with your credit card.
Tinicum Arts Festival Patron
Donate $25.00
Donate $50.00
Donate $75.00
Tinicum Arts Festival Benefactor
Donate $100.00
Donate $200.00
Donate $500.00
Donate Other
Thank you for supporting the Tinicum Civic Association and the Tinicum Arts Festival!
The Tinicum Civic Association is a 501(c)(3) charitable organization. Your donation is tax-deductible to the fullest extent of the law. No goods or services are provided in return for this contribution.
The official registration and financial information of the Tinicum Civic Association may be obtained from the Pennsylvania Department of State by calling toll-free, within Pennsylvania, (800) 732-0999. Registration does not imply endorsement.