Be Part of This Great Bucks County Tradition!
Your contribution at any level will help make this year's
Tinicum Arts Festival a success for our community.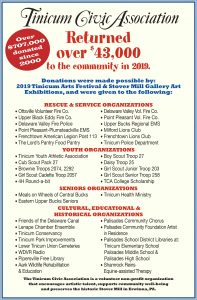 Ways for you to make a donation:
(Donations received by June 8 will be recognized in the Arts Festival Program.)
Donate Online
To make a financial donation through our secure PayPal site, using your credit card or PayPal account, please click here.
Donate Your Goods & Services
To make a donation to the Silent Auction, please click here.
Donate by Mail
To make a financial donation by mail, please send a check to:
Tinicum Civic Association
PO Box 106
Erwinna, PA 18920
Matching Gifts
Many employers match charitable contributions through corporate matching gift programs. We can help you complete any paperwork or forms that may be required. Contact us at Tinicum Civic Association, PO Box 106, Erwinna, PA 18920. Or call (610) 294-9420.
Donate your Time: Be a Volunteer!
Join the team of volunteers who have a great time making the Tinicum Civic Association and our community thrive! Click hereto go to SignUp Genius to sign-up for Volunteer Opportunities for the annual fundraiser, the Tinicum Arts Festival.
The Tinicum Arts Festival has been the primary fundraiser for the Tinicum Civic Association for 70 years. Festival proceeds go to support more than 30 local, community based, non-profit organizations that provide cultural and educational enrichment and emergency services to Tinicum Township and its neighbors.
The Tinicum Civic Association also owns and maintains the 1832 Stover Mill in Erwinna, home of the Stover Mill Gallery, which offers weekend art exhibitions April through October featuring talented regional artists. See www.StoverMillGallery.org for details.
The Tinicum Civic Association is proud of its long history as an all volunteer organization, whose board, members and friends organize and staff all fundraising activities including the Tinicum Arts Festival and the Stover Mill Gallery art exhibitions.
The Tinicum Civic Association is a 501(c)(3) charitable organization. Your donation is tax deductible to the fullest extent of the law. The official registration and financial information of the Tinicum Civic Association may be obtained from the Pennsylvania Department of State by calling toll free, within Pennsylvania, 1 (800) 732-0999. Registration does not imply endorsement.