Bucks County's longest continuously running art gallery
Will Hold its 9th Juried Art Exhibition in October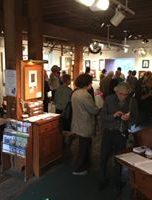 The Stover Mill Galley will be hosting its 9th juried art exhibition which will run four weekends beginning October 10th with a reception on Sunday, October 11th from 1:00-5:00pm at the Stover Mill Gallery on River Road in Erwinna, PA.
Overlooking the Delaware River, the Stover Mill Gallery is on the first floor of the carefully restored 1832 Stover Mill, which is listed on the National Register of Historic Places.
Celebrating its 61st year, the Stover Mill Gallery has served as a showcase for outstanding regional artists active in the robust art scene of Upper Bucks County since 1959.
Information for Artist Submissions: Artists working in representational, impressionist or abstract modes, in any medium, are invited to submit original art for consideration in our Juried Art Exhibitions. All art must be for sale. Each artist may submit one work. An application fee of $25 is non-refundable. If you are accepted, you may also bring in 2 portfolio pieces under $200, wrapped in plastic for sale. Artists can check back in late July for application process
A gala opening reception will be held on Sunday, October 11th, from 1 to 5pm.
2019 Cash Prizes were over $3,250