Bucks County's longest continuously running art gallery
announces its 7th Juried Art Exhibition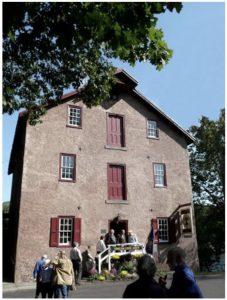 The Stover Mill Galley is currently hosting its 7th juried art exhibition which will run four weekends beginning October 13th with a reception on Sunday, October 14 from 1:00-5:00pm at the Stover Mill Gallery on River Road in Erwinna, PA.
Overlooking the Delaware River, the Stover Mill Gallery is on the first floor of the carefully restored 1832 Stover Mill, which is listed on the National Register of Historic Places.
Since 1959, the Stover Mill Gallery has served as a showcase for outstanding regional artists active in the robust art scene of Upper Bucks County.
The juried exhibition is sponsored by the Tinicum Civic Association and was juried by Lisa Tremper Hanover and Bill Brokaw. Lisa is the retired Director & CEO of the James A. Michener Art Museum. She has 30 year's experience in senior museum leadership. She has an M.A. from the University of Southern California, Los Angeles. She currently serves the cultural field as a consultant. Bill Brokow of Brokaw Photography & Video is a commercial and portrait photographer based in Frenchtown, NJ. Bill has lived his entire life in the Bucks/Hunterdon region, enjoying photographing everything and anything and sharing the art of photography through shows, social media and projects.
Information for Artist Submissions: Artists working in representational, impressionist or abstract modes, in any medium, are invited to submit original art for consideration in our Juried Art Exhibitions.. All art must be for sale.
Each artist may submit one work. An application fee of $25 is non-refundable. If you are accepted, you may also bring in 2 portfolio pieces under $200, wrapped in plastic for sale. Deadline for submission is September 9, 2018. Like Stover Mill Gallery on Facebook for updates.
A gala opening reception was be held on Sunday, October 14, from 1 to 5pm.
2018 Cash Prizes of $4,,000