Stover Mill Gallery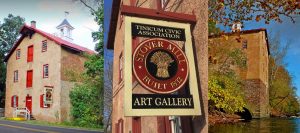 Featuring Outstanding Regional Artists in an 1832 Historic Grist Mill
The Stover Mill Gallery will kick-off of its 63rd season of monthly exhibits beginning in April. This year the gallery looks forward to exhibits by Bob Richey, Stephen Russell, Carl Holst, Sue Ann Rainey, Dot Bunn, Willi Singleton, Doug Sardo and Richard Lennox. Visit the Gallery Calendar for details.
The Stover Mill Gallery is located at 852 River Road (Rt 32), Erwinna PA
Fifteen miles north of New Hope, PA and Just two miles south of the Frenchtown Bridge
The Stover Mill Gallery's season runs April through October on Saturdays and Sundays, 1pm to 5pm
The Stover Mill Gallery is owned and maintained by the Tinicum Civic Association, a 501(c)(3) non-profit organization. All proceeds from our fund-raising efforts are used for the maintenance of the historic Stover Mill and for the support of non-profit groups serving the Tinicum community.