Stover Mill Gallery
We are closed for the winter.
Come see us in April!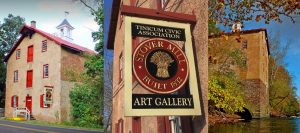 Outstanding Regional Artists in an 1832 Historic Grist Mill
Open April through october
Saturday & Sunday 1pm to 5pm, April through October
The Stover Mill Gallery is located at 852 River Road (Rt 32), Erwinna PA
Fifteen miles north of New Hope, PA and Just two miles south of the Frenchtown Bridge
The Stover Mill Gallery is owned and maintained by the Tinicum Civic Association, a 501(c)(3) non-profit organization. All proceeds from our fund-raising efforts are used for the maintenance of the historic Stover Mill and for the support of non-profit groups serving the Tinicum community.