Stover Mill Gallery
Celebrating our 60th Year!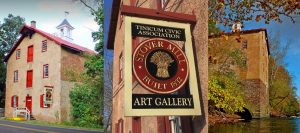 Bucks County's longest continuously running art gallery
announces its 8th Juried Art Exhibition
The Stover Mill Galley will be hosting its 8th juried art exhibition which will run four weekends beginning October 12th with a reception on Sunday, October 13th from 1:00-5:00pm at the Stover Mill Gallery on River Road in Erwinna, PA.
Outstanding Regional Artists in an 1832 Historic Grist Mill
Saturday & Sunday 1pm to 5pm, April through October
The Stover Mill Gallery is located at 852 River Road (Rt 32), Erwinna PA
Fifteen miles north of New Hope, PA and Just two miles south of the Frenchtown Bridge
The Stover Mill Gallery is owned and maintained by the Tinicum Civic Association, a 501(c)(3) non-profit organization. All proceeds from our fund-raising efforts are used for the maintenance of the historic Stover Mill and for the support of non-profit groups serving the Tinicum community.