Promoting Art &
Community Well-Being
The Tinicum Civic Association is a volunteer, non-profit organization that encourages artistic talent, supports community well-being and preserves the historic Stover Mill in Erwinna, PA.
The Mill has been owned and maintained by the Association since 1957.
Through the Stover Mill Gallery and the annual Tinicum Arts Festival , the TCA benefits over 40 community based non-profit organizations.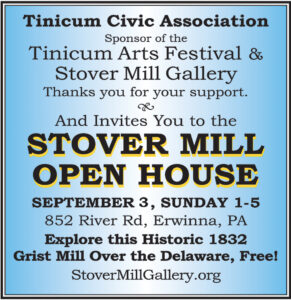 On Sunday, September 3, between 1 and 5 pm, the public is invited to an Open House at the historic, 191 years old, Stover Mill in Erwinna, PA. With most of the original mill machinery still in place, and having undergone a major restoration, the Stover Mill offers a special look back at local history.
All four floors of the mill will be open to the public. Members of the Tinicum Civic Association will be located on each floor to explain how the mill used to operate, grinding corn and wheat between 1832 and 1932.
The Stover Mill is located along the Delaware River at 852 River Road, also called Rte 32, in Erwinna, PA. Erwinna is about 2 miles south of the Frenchtown Bridge and about 15 miles north of New Hope. Admission to the open house and parking are free.
The Tinicum Civic Association meets on the 4th Thursday each month at 7:30pm (call or email for details).