(NOTE: THERE WILL BE NO JURIED ART SHOW DURING THE 2023 SEASON)
Bucks County's Longest Continuously Running Art Gallery
Held its 9th Juried Art Exhibition in October of 2022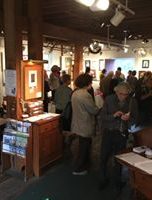 The Stover Mill Galley held its 9th juried art exhibition in October of 2022. Thirteen award winners were announced at a reception held on Sunday, October 16th at the Stover Mill Gallery on River Road in Erwinna, PA. See the list below for accepted artists and award recipients.
Overlooking the Delaware River, the Stover Mill Gallery is on the first floor of the carefully restored 1832 Stover Mill, which is listed on the National Register of Historic Places.
Now celebrating its 63rd year, the Stover Mill Gallery has served as a showcase for outstanding regional artists active in the robust art scene of Upper Bucks County since 1959.
Congratulations to 2022 accepted artists & Award Winners* for 2022
Yvonne Adkins
Jim Amon
Kathleen Amon
Carol Ashton-Hergenhan
*Robert Barrett — Excellent Use of Watercolor, Gouache or Tempera
Nancy Bentley
Aida Birritteri
Cheryl Bomba
Jerry Cable
*Shawn Campbell — Excellence in Sculpture
*Chase Cantwell — Jurors Award
*Tom Chesar — Most Outstanding Submission
Jeanne Chesterton
Robin Crowley
Claudia Davis
Janine Dunn Wade
Deborah Eater
Susan Eaton
Louis Esposito
Tracy Everly
*Robert Finch — Outstanding Use of Color
Joann Goodwin
*Betz Green — Excellence in Mixed Media
Jim Green
David Hahn
Lisa Hendrickson
*Christopher Hiltey — Outstanding Abstract Work
Addie Hocynec
Deb Hoeffner
*Richard Hoffman — Outstanding Realistic Work
Andy Holtzman
Bill Jersey
Kay King
Jennifer Kish
Anne Landis
Richard Lennox
Nancy Lloyd
*Beth Lowell — Excellent Traditional or Landscape Work
Barbara Martin
Jack Mcbrearty
George Mchugh
Kathleen Mcsherry
Shirley Mersky
Matthew Merwin
*Reed Mitchell — Excellence in Photography
Judith Nentwig
Kimberlee Nentwig
Ginny Perry
Louis Pruitt
Jane Ramsey
Roy Reinard
Bob Richey
Linda Rohne
Ingrid Rothenberg
Ilene Rubin
Kristen Russo
Cindi Sathra
Kathy Schroeher
Alexandra Scott
Alice Seufert
Robert Seufert
Leslie Stephens
Jas Szygiel
Emily Thompson
Loretta Tryon
*Eugene Underwood — Excellent Still Life
Edythe Victor
Sheila Watson Coutin
*Martha Wirkijowski — Excellent Use of Oil or Acrylic Paint
Chris Wojtaszek
Scott Woyak
Albert Yetter
Steve Zazenski
*Barbara Zietchick — Excellence in Drawing, Pastel or Printmaking
Over $4500 in Cash Prizes Awarded.
A gala opening reception was held on Sunday, October 16th, from 1 to 5pm.