Festival Artisans
Alphabetically by Company Name, or Artist First Name
100 Acres NJ Purveyors of fine woodworking and other crafts
3Elleink High Quality Bond Painted Gifts for Every Occasion
ABA Oils Oil Landscapes
ADX Fine Art Realism paintings and drawings
Alien Moon Arts Functional & decorative pottery & sculpture
Alley-Arts Oil Paintings; Studio "waters", Plein-Air Local Landscape
Amanda Dean Art Intuitive Abstract Artist
Amy Turner Handweaving Hand woven wearables and table linens
Aromaticfashion-Wendy Flohr Handmade jeweled diffusers, hand painted ceramic bottle diffusers
Beaded by Sandra Handmade Jewelry
Beadweaver's Bead woven & Mixed media jewelry with vintage & new components
Beckoning Cat Jewelry Designs Beaded jewelry, earrings, rings, paracord items, wire work
Betty's Beautiful Beads Handmade One of a Kind Beaded Jewelry and Bookmarkers
Betz Designs Raw Materials, Man Made Art
Big Dog Glass and Design Functional and Wearable Glass. Adorn Yourself and Your Home
BPK Photography Flower, coastal, & nature photography on wood
Broken Branch Creation Handcrafted wood objects mostly from salvaged timber
Buck's Daughters Quilts, Aprons, Table Runners & Toppers, Baby Gifts & More
Bucks County Birdhouses Birdhouses, feeders, walking sticks
Burning Branch Studio Hand Blown/Sculptured Glass;Flowers, Vases, Mushrooms, Ornaments, Bowls & more
Catch of the Day Designs One-of-a-kind driftwood designs
Celtic Hammer Club Handcrafted merchandise with original Celtic & Nordic style artwork
Cherryville Farms Lavender-Home decor, sachets, neck/eye pillows & shoe fresheners
Chestnut Hill Orchard, LLC Homemade jam & jelly
Chris Rogahn Handblown & kiln-formed glass and jewelry
Christmas All Year 'Round Ceramic Christmas trees, night lights & accessories
Clare Marshall ~ Bracelets Cast & Fabricated, 14K gold, silver, bronze & copper bracelets
Dakota Moon Fine silver jewelry, inspired by nature, one-of-a-kind
Delaware River Decoys Hand carved wooden decoys – Delaware River Style
Deramics Clay Studio Handmade pottery inspired by function, tradition & nature
Derek Jecxz Fine Art Photographer
Doodles All Things Dog Handmade Dog Bandanas
Douglas Wright Furnituremaker Contemporary Wood Furniture
DP Turnings Hand Turned Wooden Bowls, Vessels
Edward Dyke Ceramics Handmade ceramic bonsai pots, planters and drinkware
Enlightened Elements Metaphysical decor and crystal-infused candles
Essence of Old Woods Small Batch and all Natural Soap Makers
Evelyn King Studio Ceramics
Fairydust Pottery Functional wheel thrown & wood fired pottery
Fired Up Pottery Functional pieces made on a potter's wheel
Fused Glass Designs All Things Glass. Fused Glass Art Objects
Gardensleeves Hand crafted long sleeved gardening gloves
Golden Hour Wax Works 100% Beeswax Candles Handmade Small Batch
Gratkowski Original Art Contemporary Pastels Fine Art
Helena Van Emmerik-Finn Oil Paintings & Pastel Paintings
Helpless Moon Fused Glass Kiln-fired glass, tableware & decorative items
Hen House Handmade A variety of handmade items for gifts or you!
HenBit Art Home goods created with fluid acrylics and resin
Henry Jucewicz Handcrafted iron and birdhouses
Hollie Graze Mollycat Mosaics Colorful finely-crafted mosaic art and home decor
House of Cork Cork handbags
Ivy Pottery Functional Pottery
J.Oster Folkart Mixe media folkart with the use of recycle/upcycle materials
Jan Ciganick Watercolors
Jersey Jerry Broomsquire Brooms and Dust pans
Joy Barnes Impressionist style oil paintings, often of hydrangeas
Kaitlynn Prickett Ceramics Handmade functional pottery made for life and the home
Kathleen Hooper-Milositz Underglaze decorated porcelain in nature themes
Kathryn Maxwell Fine Art and Illustration
KC's Glass Creations Whimsy glass creations make the heart soar! – fused/mosaic/stained
Kim OHara Designs Artisan Ceramic Jewelry
Kisatchie Studio Nature inspired fused glass for body mind and home
Lockwood Piano Designs Beautifully framed salvaged piano & organ parts & related items
Louise Devery earwrap.com Earwrap earrings RC no piercing
Lynn Allbaugh Home furnishings& accessories using repurposed materials
Lynn Ebeling Hand-woven baskets, various shapes using reed, antlers, other natural materials
Maggie Ellis Antique button & semi precious beaded jewelry
Maitri Jewelry~Harriet Ford Adorn your body nourish your soul woven bead jewelry by Maitri
Marie's Soap Company Handcrafted local soap and skin products
Mercedes Rochelle Author of Medieval English Historical Fiction
Michael Sandy Photography Fine Art Photographer
Modern Fossils Environmental Fine Art
My Favorite Gift Shop Artisan Jewelry in Leather & National Crystals
Nature's Mosaics Glass Mosaics in nature themes
Natures Design Bonsai, Air Plants, Carnivorous, Pond, Foliage
Ned & Sue Rhine Repurposing beds to benches & tires to roosters & tea cups
Nonesuch Studio One of a kind semi precious gemstone bead jewelry
Olde Tyme Design Handblown & Fused Glass
paDrawmas Screen printed Original art on t-shirts w/original children's stories ( I write stories and have art commissioned)
Pamela Dulaff Artworld Watercolors, Acrylics, Photowatercolors, handmade books
Paula Focazio Art & Design Colorful pottery & natural henna
Penelope Plum Designs Handcrafted Jewelry Featuring Pearls, Gems, Wool, & Polymer Clay
Pennsylvania Soy Candle 100% Hand poured Soy Candles & Goats Milk Soap
Ramona T. Maziarz Pen & Ink Artist
Reinvented Threads Upcycled Fabric Bags, Hats and Scarves
Resilientfarm Hand crafted wood work
Richard Metger Rich Metzger Studios
River Otter Pottery Fanciful & Functional Porcelain Pottery
Roundwood Studio Artistic and functional wood turning
Rustic Mountain Chic Live edge wood gifts and home accents
Rustic Wrapsody Handmade stone wrap jewelry, soy candles and the strikers
Rusty Old Man Recycled & Reimagined Metal Art
S.L.R.Stained Glass Studio Custom designed windows
Saint Rocco's Treats Locally made human-grade meat based dog treats
Samantha Schaefer Wreaths of Decomesh/Boxes of old broken jewelry
Samunaye Handcrafted bath & skin care products, made locally
Second Season Mittens Handmade mittens made from recycled wool sweaters
Shady Lady Creations Handmade linoleum prints, hand printed shirts & accessories oil & acrylic paintings
Shelby's Squad Handmade Adjustable dog collars, leashes and adjustable flairs
Shine Glass Artisan Glassware & Jewelry
Staci Louise Originals Artisan Jewelry Created with Spirit, as Unique as You
Stellascloset Natural stone & mixed metal jewelry/accessories
Susy Kamber Art Prints
Tassels by Sewkaren Decorative ceramic tassels. Simply jewelry for your home!
Teri Nalbone Fiber Art Layers of recycled fabrics, dyed, cut & stitched, Modern Folk Art
The Basement Woodshop Handmade wooden home goods
The Painted Onion Acrylic Landscapes on Repurposed Wood
The Playful Peach Original Watercolor Jewelry
The Shabby Chic Garden Art & Wearables created from vintage silverware and found objects
Tohickon Garden Club Plant Sale
Unique Birdhouses Handmade unique birdhouses One of a kind
Wellington Metal & Gem Hand-forged silver & gemstone jewelry
Wild Honey & Gold Hand crafted jewelry and Home decor
Yanina Siani Jewelry Artisan Fine Jewelry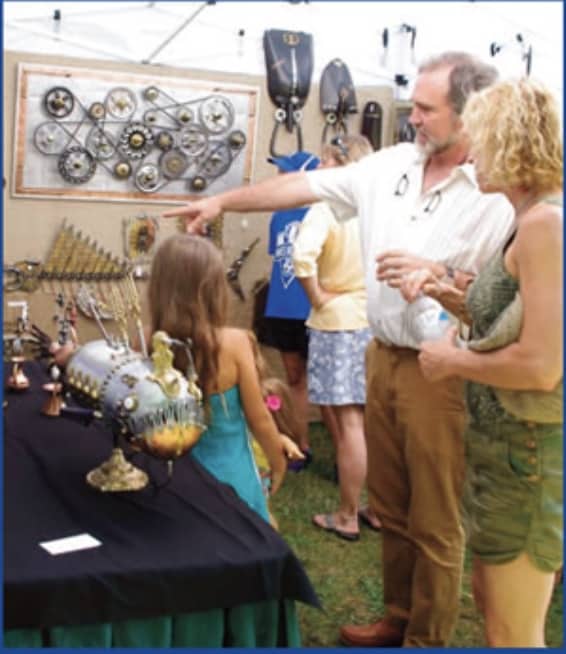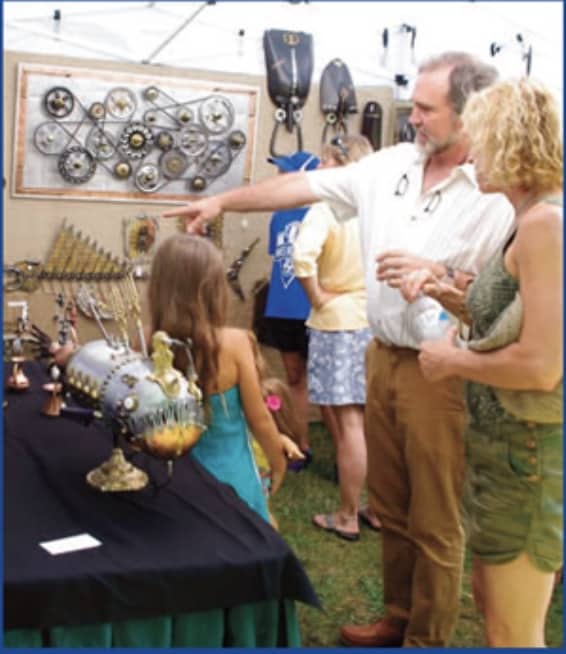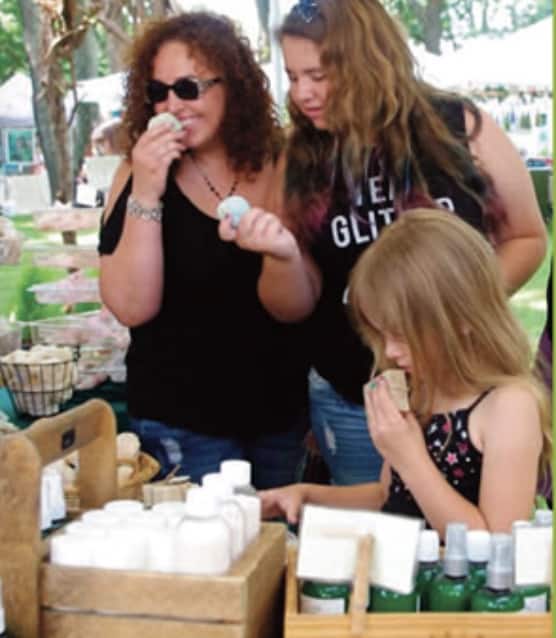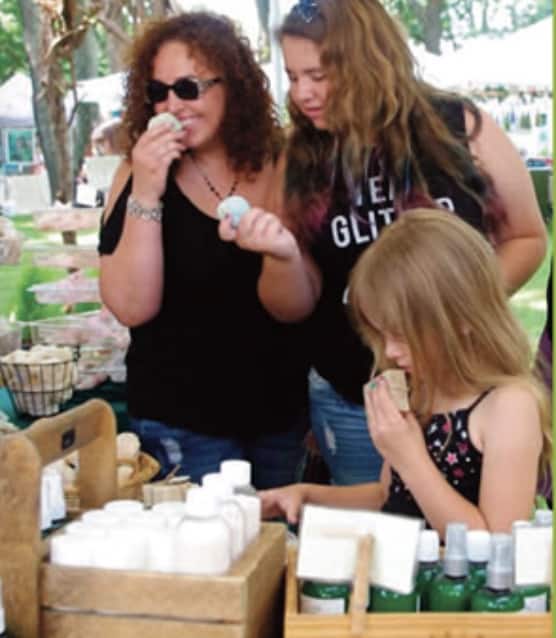 The 2022 Tinicum Arts Festival is
Saturday, July 9th from 10am to 6pm & Sunday, July 10th from 11am to 5pm
$7 for adults and $1 for children 6-12. Children under 6 and parking are FREE.
The grounds are wheelchair accessible. Pets and bicycles are not permitted within the Festival grounds.
The Tinicum Arts Festival is the primary fund raiser for the non-profit Tinicum Civic Association. All proceeds benefit the historic Stover Mill and over 30 local non-profit organizations.